Affordable Small Business Web Design and Maintenance Services for your Business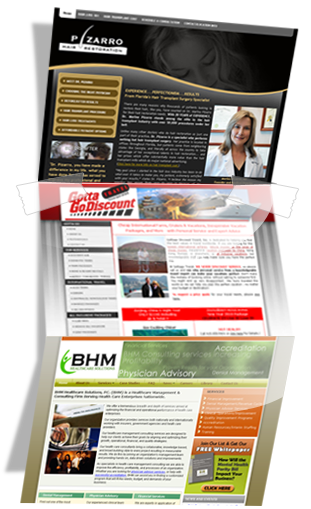 If you are running a small business and are yet to have a web site, this is the time to take the initiative. Your company might be the first point of contact of your customers, In that case having a small business web design helps you to reach out to the customers and to market and promote your products and services more effectively.
Our small business web designs can help you to build an Economical and Highly Professional website for only a few hundred dollars! We offer affordable and professional web site development options from either templates or custom made designs.
Small business web designs need to be affordable, but this does not mean you need to compromise on your professional image, functionality or marketing. Your website must generate customers and sales for your small business.
Taurus Web Solutions can build your website with your objectives in mind. Driven by a core team of competent professionals with the technical expertise in providing world class IT solutions, our services are tailor made to assist entrepreneurs and businesses- large, medium or small, to hit the bull's eye! We help you stimulate sales, build up your brand image, achieve your online targets, reduce overheads and more! We can help the clients to adapt and evolve to the changing dynamics of today's business world.
Maintenance Services at an Affordable Price
People believe that all website development companies charge exorbitant rates for small website development or web site maintenance. And most them cannot afford to pay for a custom website design or website maintenance. That is not true!!! We undertake quality web work at affordable price at quick turn around time Studies have proven that over 32% of traffic can be converted into sales by offering the customers a well designed web site.
We request you to use our no- obligation, Free Quote Requestto figure out how affordable is our small business website design plan and maintenance cost for your website. Just take an initiative to get a FREE QUOTE from us. We are sure we will be able to provide you a comprehensive maintenance service at an affordable price.
We as an Offshore Website Development Company, try our best to help small business companies to build and maintain their website.
So pick up your phone and call us today at (530) 377 – 5577 or use this form to Contact us and Get a FREE PROJECT QUOTE, to set the ball rolling! Also check out our Small Business Custom Website Design Packages, which will ensure more value for your money.
To find out more on how your business can benefit from our website development service, simply email us at info@tauruswebsolutions.com . We will be glad to come up with the most appropriate solutions well within your budget. Sam
Wonderful Company to work with - Taurus and Mr. Sachin have been nothing but professional in helping me design the website and support for my new business. Not only their pricing has been to say the least affordable, the service and customer service provided by Sachin ever since the site went live, has been fantastic. I will surely recommend this company and Mr. Sachin to whoever who cares about quality, service and professional staff. Thank you for all the help you have provided me.