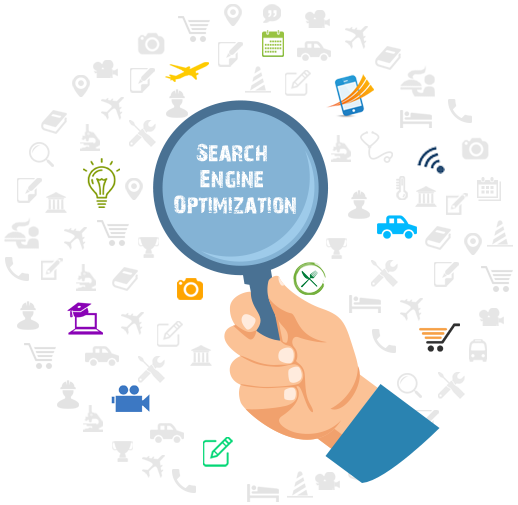 Increase sales through effective marketing
Search engine optimization (SEO) is the process of improving the visibility of a website or a web page in search engines via the "natural" or un-paid ("organic" or "algorithmic") search results. As an internet marketing strategy, SEO depends on how search engines work and what people search for. Promoting a site to increase the number of backlinks, or inbound links, is another SEO tactic.  It is an important internet marketing technology to optimize a website perfectly. Taurus web solutions works towards increasing the awareness of promoting a website with most ethical seo techniques and web designing tools alongwith bringing a momentous output.
Company helps to cultivate your online business by raising your website to the top of search engines with potential increase in traffic and sales using customized and innovative SEO (Search Engine Optimization) strategy. Search Engine Optimisation is the most essential part to have your website achieve best ranking in the search engines. Internet users visit websites by typing their required keywords in the search engine and highly optimized website gets the user attention and response.
Search Engine Optimization is the process of increasing the amount of visitors to a website by ranking high in the search results of a search engines. The higher a website ranks in the results of a search engine, the greater the chance that site will be visited by a user. It also means designing each page in such a way, that the site's content will be thoroughly mapped and indexed to keywords that potential customers employ when seeking your products or services.
Search engine marketing, or SEM, is a form of Internet marketing that seeks to promote websites by increasing their visibility in search engine result pages (SERPs) through the use of search engine optimization, paid placement, contextual advertising, and paid inclusion. SEM efficiently increases your website's visibility on the Internet. The secret to search engine optimization is timing. SEO is the art of aligning a website's attributes to the algorithms of the search engines. Simply put: we make your website's presence known to the engines as the most sensible and logical choice to the search query at hand. We do this by reorganizing your site's HTML (coding) and content. Oh and yes: CONTENT IS STILL KING!
In Internet Marketing, Search Engine Marketing (SEM), is a set of marketing methods to increase the visibility of a website in Search Engine Results Pages (SERP's). Search Engine Marketing (SEM) is most important for the businesses who sell goods and services online or who use their websites to generate sales leads. SEM services not only deliver qualified traffic to your website, but also increases the rate at which your traffic is converted into customers. Sam
Wonderful Company to work with - Taurus and Mr. Sachin have been nothing but professional in helping me design the website and support for my new business. Not only their pricing has been to say the least affordable, the service and customer service provided by Sachin ever since the site went live, has been fantastic. I will surely recommend this company and Mr. Sachin to whoever who cares about quality, service and professional staff. Thank you for all the help you have provided me.