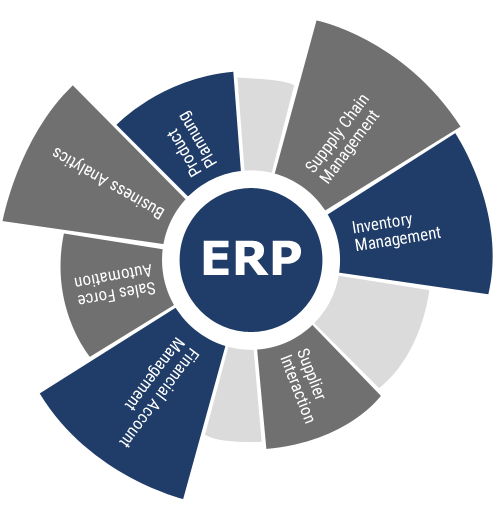 Taurus Web Solutions specializes in custom ERP development services that facilitates businesses to effectively plan, automate, combine and execute their requirements with enhanced efficiency.
Benefits of our Custom ERP solutions:
Our team focuses on enhancing the operational efficiency of the ERP's across all phases of its life cycle.
We provide a cost-effective and accurate solution that is fast and reliable over the existing traditional manual or software applications that you implement otherwise.
We will build an integrated design-build-run model that is efficient at synchronizing the activities while providing an additional support.
You will have an easy access to the system as it is now centralized
We have already developed over 50 and more projects for a number of businesses as a substitute for their existing software or manual procedures that are being implemented to ensure an enhanced flow of the business systems with our affordable custom made ERP applications. A large number of small businesses lack the specific key to dealing with the flaws in the ERP programs that they utilize for maintaining an efficient flow of the systems. We can help at fixing that!
At Taurus Web Solutions, we provide a variety of services across the different phases of the ERP life cycle. We will help you with the ERP Strategy, Package Selection, Implementation, ERP outsourcing as well as production support. We stand by your side as pillars of support since the time you decide to implement custom ERP services for your businesses.
The different stages of Custom ERP Solutions move via the following phases:
Integrate various multiple operations and functionalities within the organization
Enhanced efficiency of each processes
Automation of manual procedures
Enhanced visibility for business stakeholders
Comply with the business requirements
Cost savings are processed effectively with ease
Establishing an enhanced connectivity between customers and suppliers.
We have already provided our services in the following domains:
Finance
Procurement
Inventory Management
Business Planning
Human Resources
Tell us what your needs are and we will provide you with an effective Custom ERP solution to fit in your business needs! Sam
Wonderful Company to work with - Taurus and Mr. Sachin have been nothing but professional in helping me design the website and support for my new business. Not only their pricing has been to say the least affordable, the service and customer service provided by Sachin ever since the site went live, has been fantastic. I will surely recommend this company and Mr. Sachin to whoever who cares about quality, service and professional staff. Thank you for all the help you have provided me.