Planning to go online with your business? It's the time to create a fully-loaded marketplace website of your own!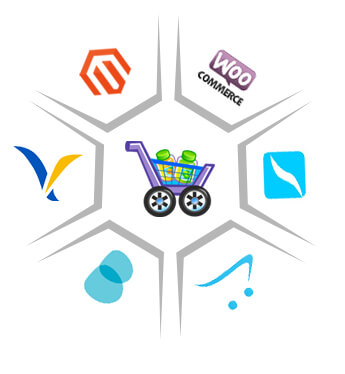 An eCommerce website is the foundation of your online business & is, in fact, a vital part of any retailers' channel mix or it may be your only sales channel! A website which showcases your products in the best way possible & is easy to use as well as process payments securely is an advantage for any business. Enter Taurus Web Solutions, a complete solution for eCommerce website development and design company in India, with eCommerce website development solutions that offer the best in standard features and functionalities while remaining completely customizable. We totally understand the importance of utilizing the latest technology to increase your profitability.
Our extremely skilled team of eCommerce website developers are experienced with a range of customized eCommerce platforms like Magento and WooCommerce and has even created bespoke solutions for a global clientele. Our team will discuss your custom functionality needs, your business, products, audience, and budget with you to tailor a solution that matches your online brand and eCommerce goals. Our advisers are able to recommend the platform that's the best suited for you. An ECommerce website needs more functionalities than regular sites like the ability for users to create accounts, create a wishlist and of course buy online. More advanced features can include multiple delivery options, trade, and consumer pricing or the ability to customize products. In our ECommerce website development services with the open source software we use, it is possible to include all of the above (and more!) So please just let us know if there are any special features you wish to include. We are also able to integrate your website with many popular eCommerce systems, such as Sparkstone, OrderWise, Salesforce, and SagePay.
For bespoke ecommerce website development in India and US, Please contact Taurus Web Solutions with a wealth of experience in this sector, having worked with national names as well as smaller local businesses. Our ecommerce website development services with these clients included conversion rate optimization, user experience design, plus the creation of a number of bespoke features and developments. As a full-service digital agency, Taurus Web Solutions also provides ongoing support with digital marketing services, driving traffic to your new site through techniques like PPC, SEO, social media and email marketing. Check out our Portfolio to see some recent eCommerce web design projects, and get in touch with our team to find out how we can help you.