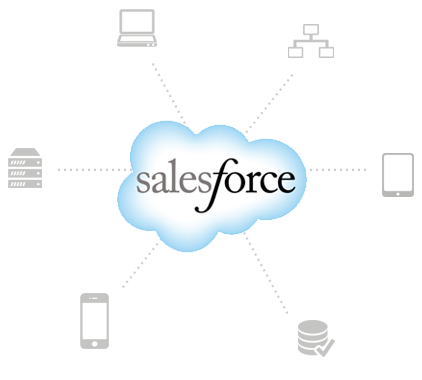 Each and every business has different intentions and need to represent uniqueness for business benefits. Now that you have decided to embed Salesforce CRM, there is no need to change the business monotony to fit in the addition. The CRM application can be altered accordingly to adapt to your business mode.
The design features of Salesforce CRM are such that they can be easily customized as per client requirements and specifications. You will not believe, but the fact is that the customizations are so easy that even a non-technical person can deal with it. But, we are experts at it and we are more than happy to assist you in the process. Taurus Web Solutions is an offshore Custom Salesforce Development Company with several years of experience at successfully developing and delivering a variety of Salesforce CRM solutions depending upon customer needs that vary across different industry domains.
We embed in Salesforce services for your business needs as we have an expert team experienced at customizing and extending Salesforce based on Apex and Visualforce.
Customization:
Businesses these days are slowly adapting Salesforce functionality into their company's processes and workflow systems to provide a smooth flow in the overall functioning ensuring a high level of efficiency in the business system. If you already have a system but wish to adopt the modern systems, then let us know we will customize and personalize it as per your business needs. Apart from developing and customizing Salesforce CRM, we also provide assistance with Mashup page development services.
Custom Application Development:
Custom application development allows to embed in advanced automation functions and expand the existing functionality of the Salesforce CRM solutions. Just tell us what your needs are and we have an excellent team of experts experienced at handling and creating Apex Classes, Views, Page Layouts, Triggers, S-controls, Visualforce pages, Workflows and it also helps to generate reports and dashboards depending upon your business needs. At Taurus Web Solutions, we provide a variety of custom development solutions to blend in with the business requirements taking into consideration cloud application solutions development on Force.com development platform. We have a range of existing products that were developed using Salesforce.com products including Service Cloud, Sales Cloud, Chatter and Force.com.
As the world is going mobile, we have all our products integrated with the mobile apps to help these businesses lead in the rat race and to achieve better results. We can integrate apps based on the Appexchange security guidelines. We have hands over experience in Email Services, Packaging, and Deployment via Eclipse Force.com or Force.com IDE plugin and change set.
Integration
At Taurus Web Solutions, our services flaunt high-level of security, reliability, seamless, and scalable integration of the Salesforce.com and your business's on-ground applications like Databases, Legacy systems, Website, Inventory, Order Management, Data Warehouse, Flat Files, XML Files, ERP, etc. and also we work on external cloud services that includes Amazon Web Services, Google App Engine etc. We also provide services to allow third-party applications to swap information with the Salesforce by developing web services on the Salesforce.
Migration
If you are looking for an expert with hands on experience at migrating customer data from other existing applications then, choose us. At Taurus Web Solutions our team of experts can easily migrate data from applications such as ACT!, Microsoft Dynamics CRM, Sage SalesLogix, Bespoke Systems, QuickBooks, and Excel spreadsheets to Salesforce systems. We implement Data Loaded system for manual migration. evaluated third-party tools like Informatica, and S2S for Salesforce to Salesforce migration.
Administration / Support
Apart from these customization, integration and migration services, we are also experienced at handling a variety of administrative activities that includes Site Domain Registration & Setup Administration. Public Access Management, Visualforce & Apex Access, Public Access Management, Trust IP Range, Activation & Deactivation, Login Settings, Profile Settings, etc. We also help in the implementation of publishing app on Appexchange.
Do you need Salesforce Development Services? Contact us today for a free quote……. Sam
Wonderful Company to work with - Taurus and Mr. Sachin have been nothing but professional in helping me design the website and support for my new business. Not only their pricing has been to say the least affordable, the service and customer service provided by Sachin ever since the site went live, has been fantastic. I will surely recommend this company and Mr. Sachin to whoever who cares about quality, service and professional staff. Thank you for all the help you have provided me.