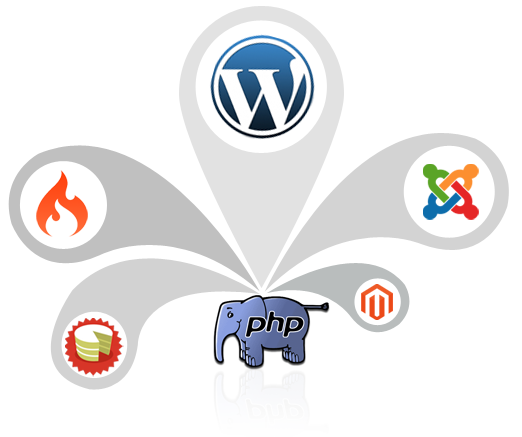 PHP is one of the open source framework that is utilized for developing web applications. The model is built on the Ruby-on-Rails concept and the applications are written in PHP.
PHP developers utilizes this concept model to build robust web applications. The complexities or simplicity of the CMS application development is never a hindrance as it can easily handle anything and everything related to it with ease.
The framework is built on the concepts of the MVC architecture and this allows you to easily customize and even extend the aspects of your applications if need be. It also provides you with an architecture that is extensible and can be utilized for developing, maintaining and deploying applications.
Why we recommend PHP applications?
It supports the development of dynamic websites that are built on MVC architecture and ORM.
Rapid Application Development platform that ensures compatibility with PHP4 and PHP5.
Affordable applications that can be developed within a short span of time.
Built in tools for security
We will develop excellent PHP applications embedding in all your requirements and specifications. Contact us for more details….. Sam
Wonderful Company to work with - Taurus and Mr. Sachin have been nothing but professional in helping me design the website and support for my new business. Not only their pricing has been to say the least affordable, the service and customer service provided by Sachin ever since the site went live, has been fantastic. I will surely recommend this company and Mr. Sachin to whoever who cares about quality, service and professional staff. Thank you for all the help you have provided me.