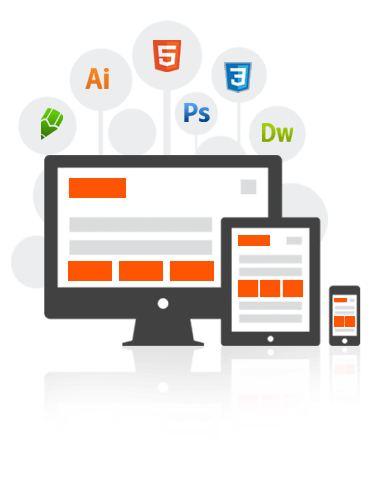 Responsive Web Design is one of the most evolving practices till date and needs to be embedded into your website design today. Gone are the days when people utilize desktop PC's to view the websites as mobile phones are replacing all traditional devices to gain easy access to the internet with just a tap. This is where the need to offer a device-independent User Interface with excellent interaction and experience comes into the picture and responsive web designs steals the show.
Responsive Designs are capable of adjusting the appearance based on the screen resolution, dimension and other factors. If your website was designed to align with the desktop screen dimensions here we are to bring in the responsiveness that it demands. Our web design wizards will code the designer style sheets of your website so that it automatically adjusts its layout to easily fit in the width of the browser, across which it is being viewed.
Speak to us today and avail the best offers on responsive web designs!
Taurus Web Solutions provides unique responsive web designs. We design:
Personalized websites
Database driven web applications
Mobile friendly designs with advanced location integration
Responsive website layouts
Integration with social media sites
Features of our Responsive web designs:
Advanced performance
Designed to fit into the screen dimensions of a variety of devices
Cross browser compatibility
Device agnostic as it is designed for real people
We will provide you with expert advice. Call us or fill in the above form with your details and queries. Sam
Wonderful Company to work with - Taurus and Mr. Sachin have been nothing but professional in helping me design the website and support for my new business. Not only their pricing has been to say the least affordable, the service and customer service provided by Sachin ever since the site went live, has been fantastic. I will surely recommend this company and Mr. Sachin to whoever who cares about quality, service and professional staff. Thank you for all the help you have provided me.